Sega Genesis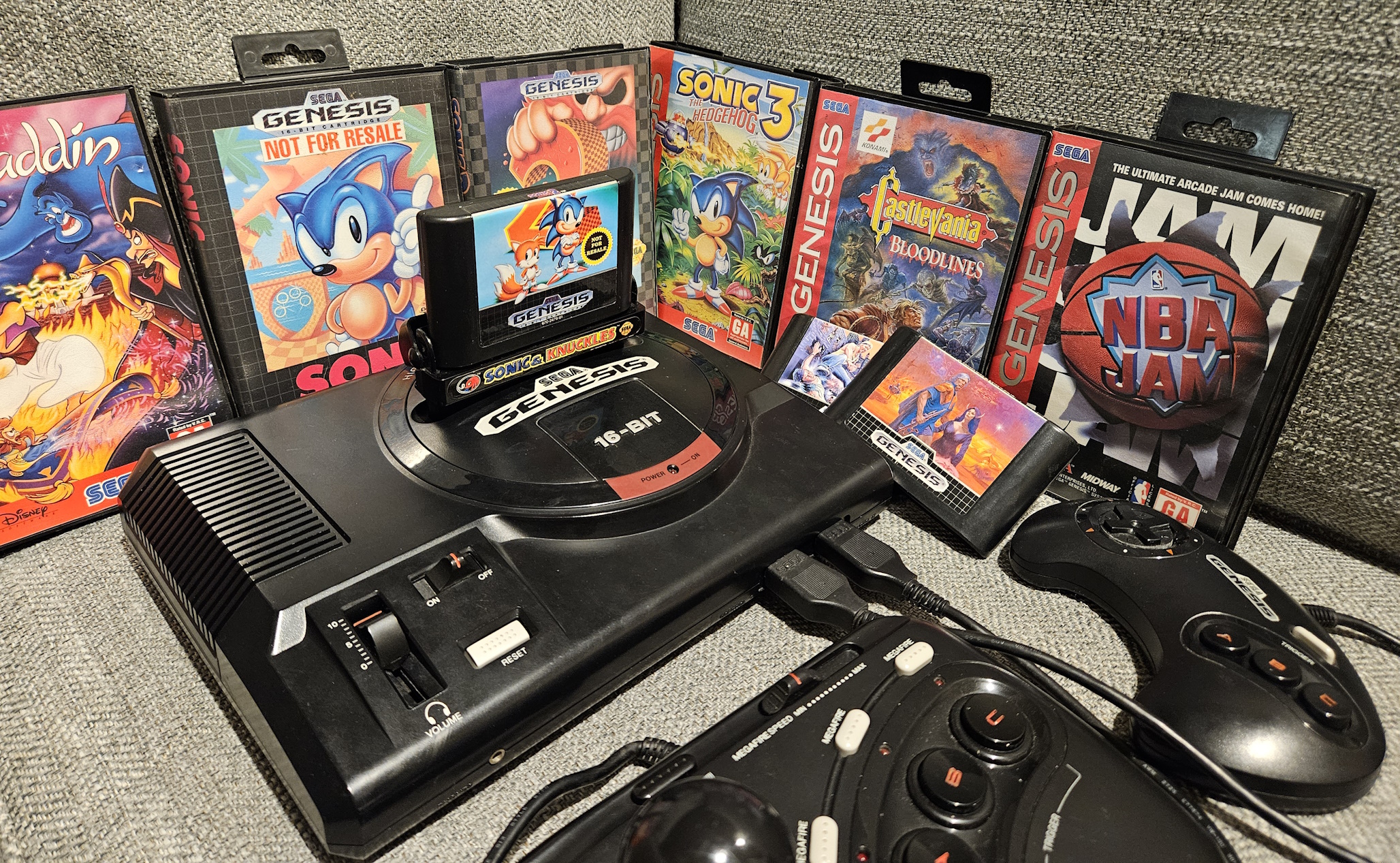 Click on image to enlarge.
Launch Years:
NA: 1989, EU: 1990 (Mega Drive), JP: 1988 (Mega Drive)
The Sega Genesis is where shit got real for Sega. While the Mega Drive weren't total failures in Europe and Japan, The Sega Genesis was kicking ass and taking names in North America. There were some periods where Sega was even outselling Nintendo, and taking a significant portion of the market for themselves.
The Genesis is the machine that Sega is best known for these days. The system was catered more towards the teenage market with its fast paced action games and arcade ports. LOADS of sports games came out for this thing.
Games (23)
| Title | Genre | CIB? |
| --- | --- | --- |
| Aladdin | Action Platformer | In Box |
| Alex Kidd In The Enchanted Castle | Platformer | Loose Cart |
| Altered Beast | Beat 'Em Up | Complete In Box |
| Castlevania Bloodlines | Action Platformer | In Box |
| Comix Zone | Beat 'Em Up | Loose Cart |
| Dr Robotnik's Mean Bean Machine | Puzzle | Complete In Box |
| Mortal Kombat | Fighting | Complete In Box |
| NBA Jam | Arcade Sports | Complete In Box |
| Outrun 2019 | Arcade Racing | In Box |
| Phantasy Star II | JRPG | Loose Cart |
| Ristar | Platformer | Loose Cart |
| Rocket Knight Adventures | Platformer | Loose Cart |
| Shadow Dancer: The Secret of Shinobi | Action Platformer | Complete In Box |
| Shining Force | Tactical JRPG | Loose Cart |
| Sonic The Hedgehog | Platformer | Complete In Box |
| Sonic The Hedgehog 2 | Platformer | Complete In Box |
| Sonic The Hedgehog 3 | Platformer | Complete In Box |
| Sonic and Knuckles | Platformer | Complete In Box |
| Sonic 3D Blast | Isometric Platformer | Loose Cart |
| Sonic Spinball | Pinball | Complete In Box |
| Street Fighter II: Special Championship Edition | Fighting | Complete In Box |
| Streets of Rage | Beat 'Em Up | Loose Cart |
| Vectorman | Run n' Gun | Loose Cart |
Accessories
Genesis Arcade Power Stick





Return to collection page